OUR TEAM develops & drives our programmes.
Nicola Scholl – Founder & Director
I started PLAY HANDBALL because I believe in the power of sport to transform lives. My aim is to bring handball as a tool for development on the international agenda, help more children and youth to reach their fully potentials through sport and promote good values such as equality, diversity, inclusion, enjoyment in sport and sustainability.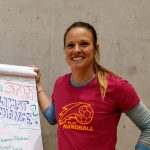 Nicola Scholl has started the organisation in 2013 and is developing it to an international organisation operating in South Africa, Kenya and Germany since then. Within this position, Nicola has driven the development of the Play Handball Super Cup as the first climate neutral, zero-waste handball tournament worldwide, as well as created and published the "The Play Fair for The Environment Manual", a game based environmental educational training programme. In 2018, she worked for the German Olympic Sports Confederation (DOSB) as a sport for development expert for a co-operation project with the GIZ in Jordan to compile a Handball & Life Skill Manual for the region. Before her engagement in social work, she has gained over seven years of experience in both advertising and retail sectors in Europe, as a business consultant, project manager and media analytics researcher. Nicola holds a Master degree in Science, majoring in Business Administration & Management from the Westfälische Wilhelms-University in Münster, Germany, furthermore possess the Handball Coach B-Licence and a Certificate in Fitness and Nutrition.
Simphiwe Mahlanyana – Project Coordinator South Africa
I am passionate about behavioural change, challenging status quos, creating new experiences and empowering the youth, because growing up in Kwa-Langa was not much stimulation except for going to school and choosing to do sport on weekends. Nowadays there are many opportunities available to the youth and my aim is to make them see these and take initiative and be accountable, instead of spoon-feeding them. Play Handball is exactly this opportunity! It is an organisation that makes youth be socially aware of their belonging, be environmentally friendly and be able to stay fit, healthy and empowered.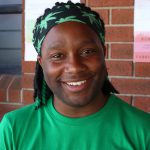 Simphiwe Mahlanyana (known to many as 'Sim') was born and bred at Cape Town's first Township – Kwa-Langa. Sim is an administration, training and development freelancer and consequently project coordinate for Play Handball ZA, since September 2018. When Sim was younger and still lived in Kwa-Langa, he used to play soccer and was passionate about the sport, because not only did it strengthen the team to think independently and competitively but the bond created on and off the pitch between teammates and opponents was something he strongly believes in to this day.
Caroline Wanjiku Nange – Project Coordinator in Kenya
I know by my own story how sport empowers people and offers opportunities for personal growth. I grew up in the largest slum in Kenya where to make it in life seems like impossible. Participation in sport gave me hope, peace and a positive focus. My mission is to pass this knowledge and positive attitude to young people, while making handball famous in schools and underserved, low-income communities. I want to use the values of handball for social and attitude change amongst young people on environmental issues and their own life issues.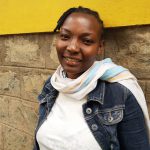 Caroline Wanjiku Nange is PLAY HANDBALL Kenya coordinator since June 2019. She has been supporting in the coordination of mobilising of resources, the volunteer's placements, networking with schools and community-based organisations in the country. Caroline has been in the field of sports for development since 2006 to date. Previously, she worked in Botswana where she helped to start-up a catering service program as an income-generating stream for South-East-African Youth Organisation managed by the youth themselves. Later she joined Kicking AIDS Out Network secretariat in 2010 in Cape Town, South Africa. The KAO encompassed 27 sport organisations in 22 countries.  She assisted the management of the Network's Intranet, website, Facebook page and all logistics related to Network events as an administrator.
Laura Voss – Project Assistant & Social Media 
Practicing and coaching sport have always been a passion of mine. During my school, I made the experience that sport is a perfect balance and on the other hand also promotes competences like motivation, teamwork and commitment. I want to use this experience to motivate children to practice sports their whole life. I work for Play Handball, because it is important for me to show children how beautiful and varied sport and handball can be. Especially at the place where I was in South Africa, the children hardly know any sports games, let alone handball. It is nice to see how they get into it and play the games with their class mates later during break time. Sport makes a valuable contribution to the development of children, which I want to support through my work at Play Handball.

Laura Voss joined Play Handball as volunteer in September 2019. Before, she studied physics and physical education to become a teacher, worked as teacher and did volunteer work in her local triathlon sports club as youth leader. Meanwhile she is back in Germany and continues to support Play Handball with projects and social media. A look at our @play.handball Instagram page is worthwhile!
Ruwen Möller – PR in Germany & beyond
I try to support PLAY HANDBALL from afar as much as I can and to build a bridge to Germany. Why? Quite simply because I believe in the idea of giving children a tool for their whole life through sport. And because the positive energy that Nicola and the entire PLAY HANDBALL team put into the project deserves every support.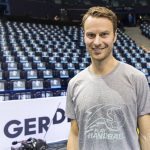 As a journalist, I have been very lucky for many years to report on handball, a fascinating sport on many levels. In 2016 during a visit to Namibia, I traced the history of handball there. I ended up in South Africa with PLAY HANDBALL. Since then I have kept in touch with Nicola and her organisation and, back in Germany, tried to contribute some PR work. Besides writing my own stories about PLAY HANDBALL, I also established contact with other media that covered PLAY HANDBALL. I hope that some more will be published in the future and would be happy if I could report on location again sometime.
www.ruwen-moeller.de
---
OUR ADVISORY BOARD guides us in our decisions.
Nqaba Bucwa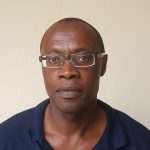 "I believe in the value of the impact and reach that Play Handball has in preparing youth into capable members and leaders of society through sports training and the self-empowering people skills that Play Handball facilitates."
Director ANGOLA SOUTH AFRICA CHAMBER OF COMMERCE AND INDUSTRY (CACIAAS-SA), Cape Town, South Africa
Expertise & Skills: Business facilitation and development.
Marius van Straaten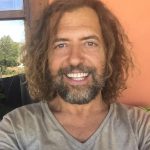 "I support Play Handball as I believe it is one of the best initiatives available to help young South Africans improve their lives and take ownership of their destinies."
Director of Visual Impact, Media Hive & Visual Impact Academy, Cape Town, South Africa
Expertise & Skills: In 2000, Marius established Visual Impact – Cape Town, conceived, and developed the Media Hive Building in central Cape Town. As part of the Visual Impact Group Marius is responsible for client liaison and representing Visual Impact on broadcast and multi camera projects with a special focus on Reality TV formats. Marius initiated the Visual Impact Academy and created the Academy's syllabus and programs. The academy provides world class broadcast training and is MICT SETA accredited.
Dayana Dreke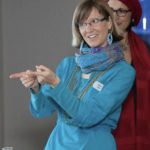 "I support Play Handball since its beginnings as I have experienced myself through my NGO work in Cape Town's communities what positive impact sport as an effective tool for youth empowerment has, especially a team sport like handball, which increases healthy self-esteem as well as social life skills."
Integration coordinator for young refugees (supporting & empowering refugee youth) in Berlin Hohenschönhausen, Germany
Expertise & Skills: Child & youth empowerment, event & project management, intercultural communication, NGO organisational development, community peace work, networking, conflict transformation, leadership development, systemic coaching.
Darryn Allan
Izak Smith