Handball season starts! New volunteers started in PlayHandball's sports and youth development programmes at the beginning of September. As part of their voluntary social year (FSJ) abroad, eight young people will support us and our community and school partners in South Africa and Kenya this year.
While David, Lilli and Katja are still waiting for their VISA and departure in Germany, Jule, Sebastian, Hendrik, Lilith and Lukas give us a first impression of their experiences in the first month. Before they arrived with us, they received a first introduction to our training method from Gisa Klaunig, co-coach of the German U19/20 women's national handball team, as part of their preparation seminar. Gisa was a PlayHandball volunteer and could therefore not only teach handball training methods but also share her impressions as a volunteer.
Jule and Sebastian report from Kenya:
Jule from TSV Bremervörde in Machakos, Kenya: I had been planning for some time to go abroad for a year after graduating from high school in order to have a profound insight into a foreign culture and different living conditions. Since I love both sports and working with children, the PlayHandball organisation proved to be a great fit for me. Teaching at the Primary School St.Claret and also handball training with children of different age groups gives me a lot of pleasure and makes the weeks fly by. The people here are incredibly warm, fun-loving and hospitable, so I immediately felt at home here. I get on very well with my host family and really hope that they will show me a lot of the country during my holidays. This year, I definitely want to go to the East Coast in Mombasa and see as many wild animals as possible in one of the national parks.
Sebastian from SG Muggensturm/Kuppenheim in Thika, Kenya: My motivation was that I didn't want to go straight to university after finishing school, so I wanted to do an FSJ. But I also wanted to go abroad and when I found out about PlayHandball, it was made for me. Because I can combine an FSJ with my favourite sport. I didn't really have any expectations, because everything is so different here, I just wanted to let it come to me. And the first impression is great: the people here are very nice and the children are always happy to see me.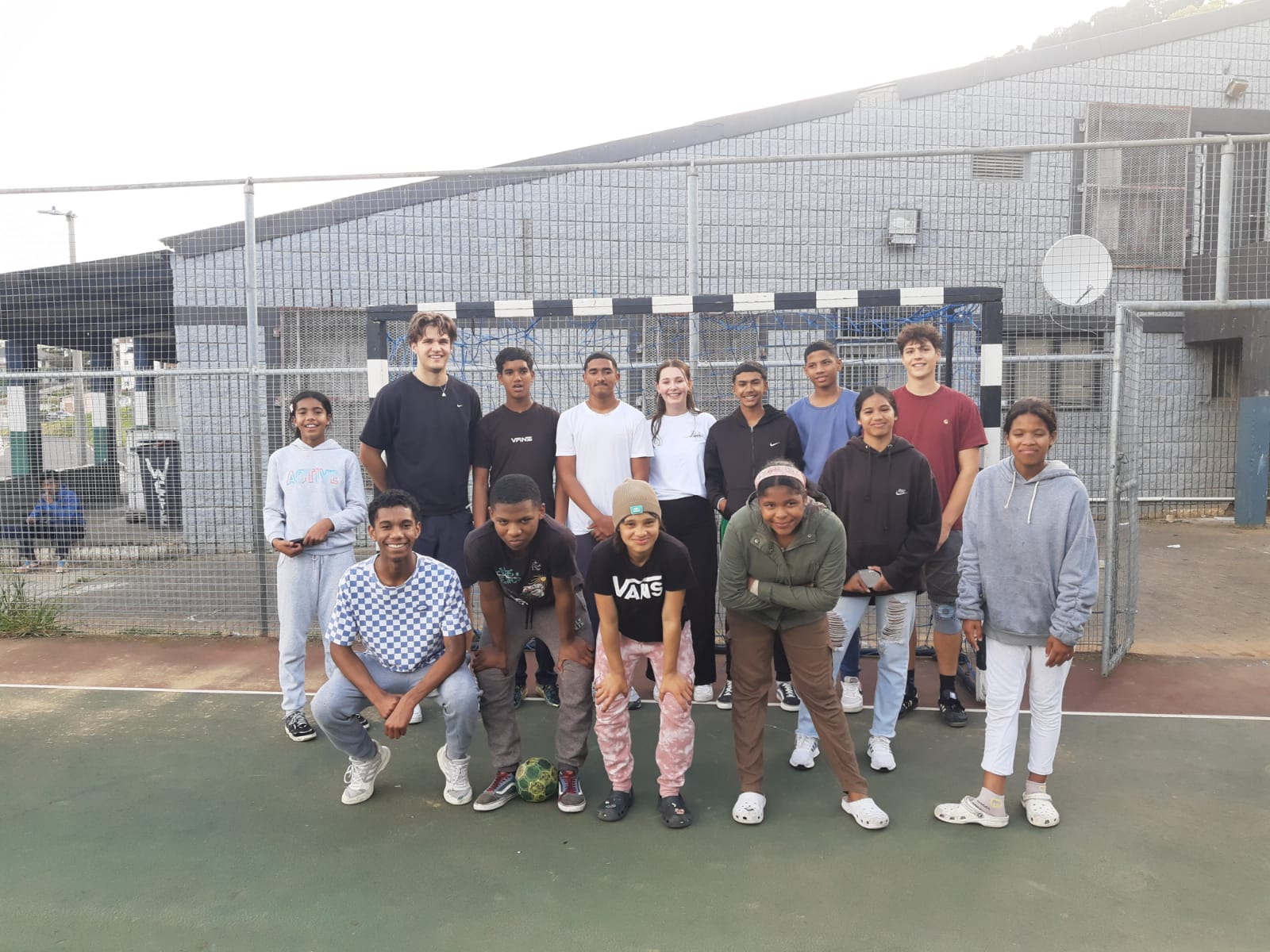 In South Africa, only three of the six volunteers were able to start. Our volunteers Hendrik, Lilith and Lukas tell us about their first weeks in the country:
Hendrik from HV Lüneburg in Kuilsriver, South Africa: I was very interested in doing an FSJ in (South) Africa because I dealt with the topic of development cooperation in Africa in my seminar subject at school. In addition, I am a big fan of sports and believe that handball in particular has a great power to address social problems (of any kind). I didn't really have any expectations of the FSJ and boarded the plane to Cape Town with an open mind. The only thing I really wanted was a nice host family, and that's exactly what I got. I stayed with a very warm host family in a rather socially deprived region and am now seen as their third unofficial son. They really take good care of me and always have an open ear. For my time here in South Africa, I plan to teach the children, who all have super fun playing handball. I want to leave a good impression as a German, but above all as a person, and leave the country after a year with a clear conscience (if I still want to fly at all). For myself, I plan to take in as much as I can of foreign cultures and nice people. I also want to see a lot of nature in South Africa and maybe in other neighbouring countries. These experiences will probably be unique, which is why I consider them to be of incredible value. Now I've only been here for a fortnight and I'm really looking forward to the coming year!
Lilith from SuS Stadtlohn in Cape Town, South Africa: After graduating from high school, it was clear to me that I didn't want to continue studying or learning right away, but wanted to travel and spend time abroad. That's why I decided to do voluntary service with PlayHandball. South Africa inspires me more every day because the natural beauty of the city and the open people are so fascinating. The children we play handball with are incredibly grateful and motivated and we have already been able to experience a lot together in just 2 weeks. I hope that we can continue this in the next few months and that I can get to know as much of the country as possible.
Lukas from TSV Bühlau in Bo-Kaap (Cape Town), South Africa: It was clear to me from the beginning that I would like to spend a year abroad after school and be active in a social direction. When I came across PlayHandball, it was clear to me that I had to participate. My motivation is to teach the sport handball to children in another country. Already on the first day I noticed how open and friendly the people are. I am looking forward to teaching handball to as many children as possible this year and getting to know South Africa better.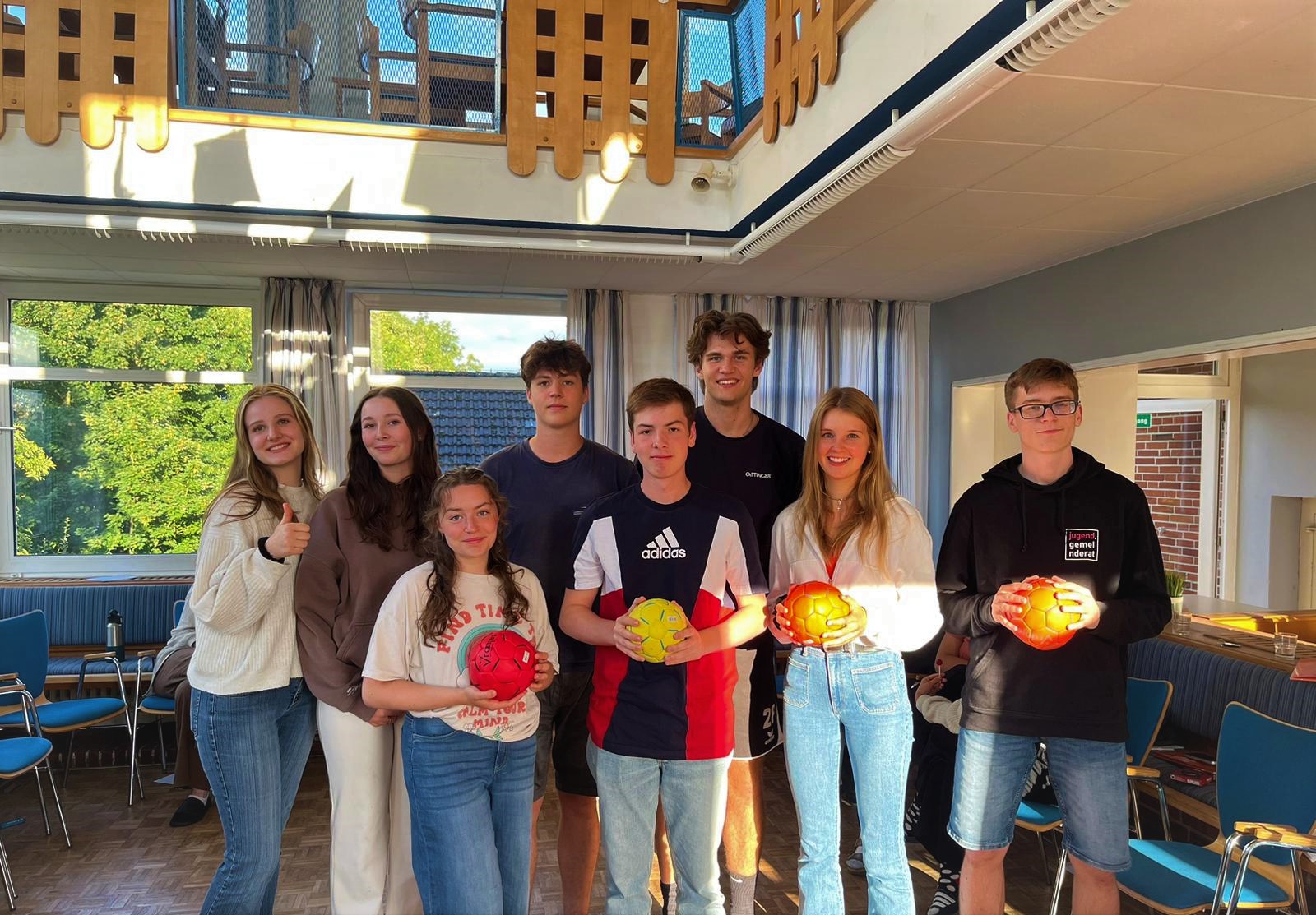 Before the volunteers could set off on their handball adventure, they had to prepare intensively for the year in Kenya or South Africa. For this, they met at a one-week seminar in Kiel. This week was an exciting time for all the volunteers. It was not only the first time that everyone got to know each other properly, but also a very learning-intensive week. Our volunteers dealt intensively with the cultures and history of their respective countries of assignment, but educational learning units were also part of the seminar.
The highlight was the visit of co-coach Gisa Klaunig of the German U19/20 women's national handball team, who works for the Schleswig-Holstein Handball Association in the department of competitive sports/teaching. She led the seminar of our volunteers for a whole day and strengthened their competence as coaches and trainers. Through her world trip, during which she also spent six weeks as a PlayHandball volunteer helping in schools in Atlantis in South Africa, she was able to give the volunteers insights into the projects on site and adapt the seminar content to the requirements on site to prepare them even more specifically.
We are looking forward to the energetic support that will help us to expand the sports programme and especially the handball programme for children and young people in schools and afternoon areas. 
If you are interested in volunteering in South Africa or Kenya, whether for a year with the Weltwärts programme or only for 2 to 6 months, please contact us. Just write us an email at info@play-handball.org.